18
/
Feb
2022
Ah, warmth!
Actually, more like "Ah, not cold!" We're at Huntington Beach State Park in South Carolina, and it was 64 degrees this afternoon, with a forecast low of 54 tonight. It was in the twenties and snowing when we left Maine Sunday morning, so this is quite an improvement. We made it to my brother Pete and sister-in-law Kathleen's in time to watch the Super Bowl with them and our niece Sara. We took our time getting moving Monday morning and headed off. I wanted to avoid the I-95 corridor from Philadelphia to Richmond with the camper, so we decided to head down the Delmarva peninsula and cross the Chesapeake Bay Bridge-Tunnel. We stopped in Middletown, Delaware for a nice lunch with my high school friend Dave Mumford. We didn't leave there until almost 3, so we ended up crossing the bridge in the dark. Bad planning on my part! We'll have to try another time to get the views.
We spent the night at a Harvest Host in Virginia Beach. It was a church parking lot with nothing around but occasional police cars. They must be used to seeing campers there, since they didn't come over to check on us. In the morning, we made a stop at First Landing State Park to walk and find a geocache before we headed off to visit with Dartmouth friend Marianne Bond Price in Vass, North Carolina.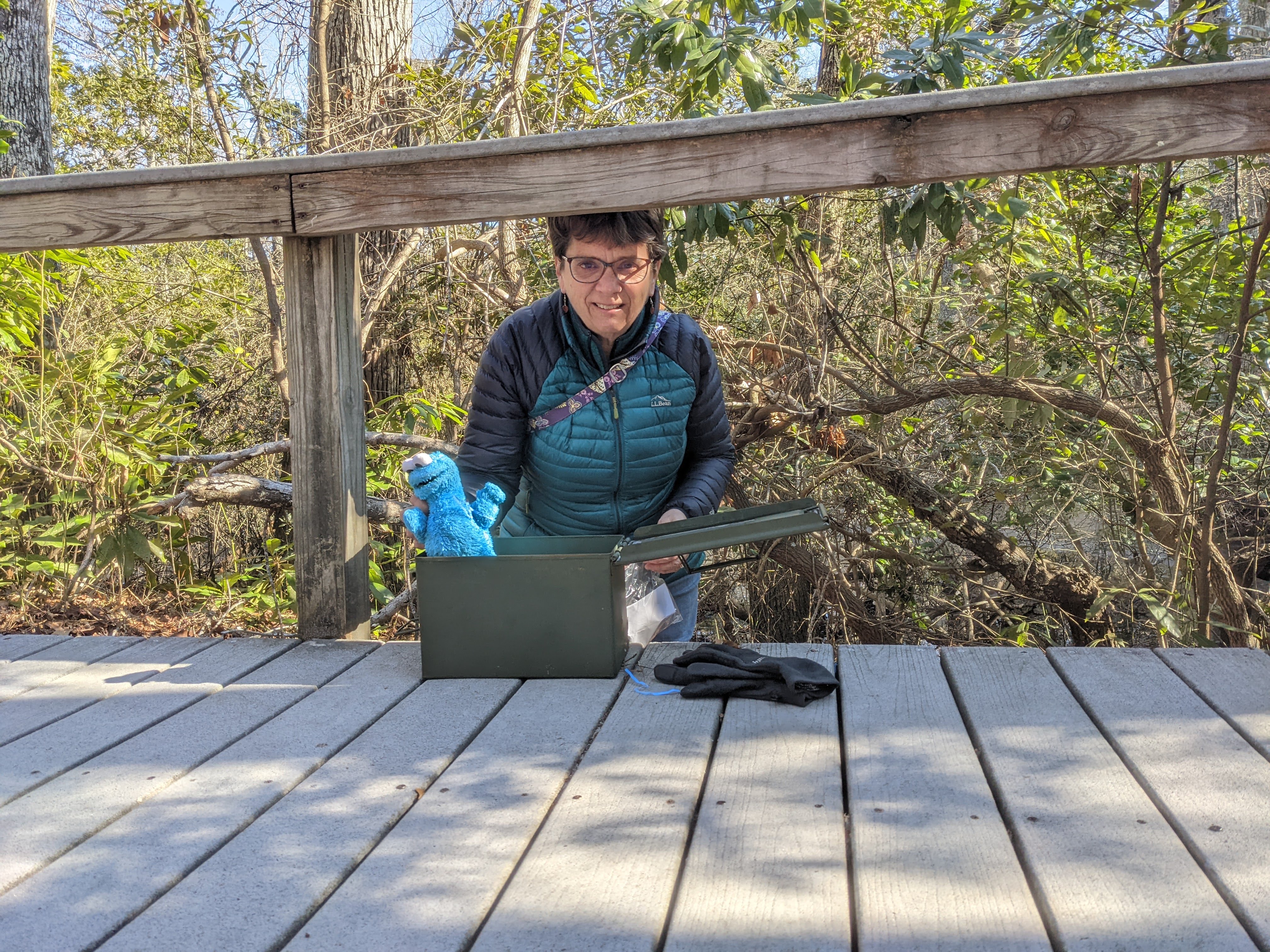 I had plotted out a route that avoided major highways in Google Maps on my computer, but then found that there appeared to be no way to transfer that route to my phone and when I plugged my phone into Android Auto in the car, things got even harder to deal with. So if you know of an Android Auto-compatible navigation program that would let me put together a route on the computer, then follow it in the car, please let me know!
We had a nice visit and dinner with Marianne at her beautiful huntbox1.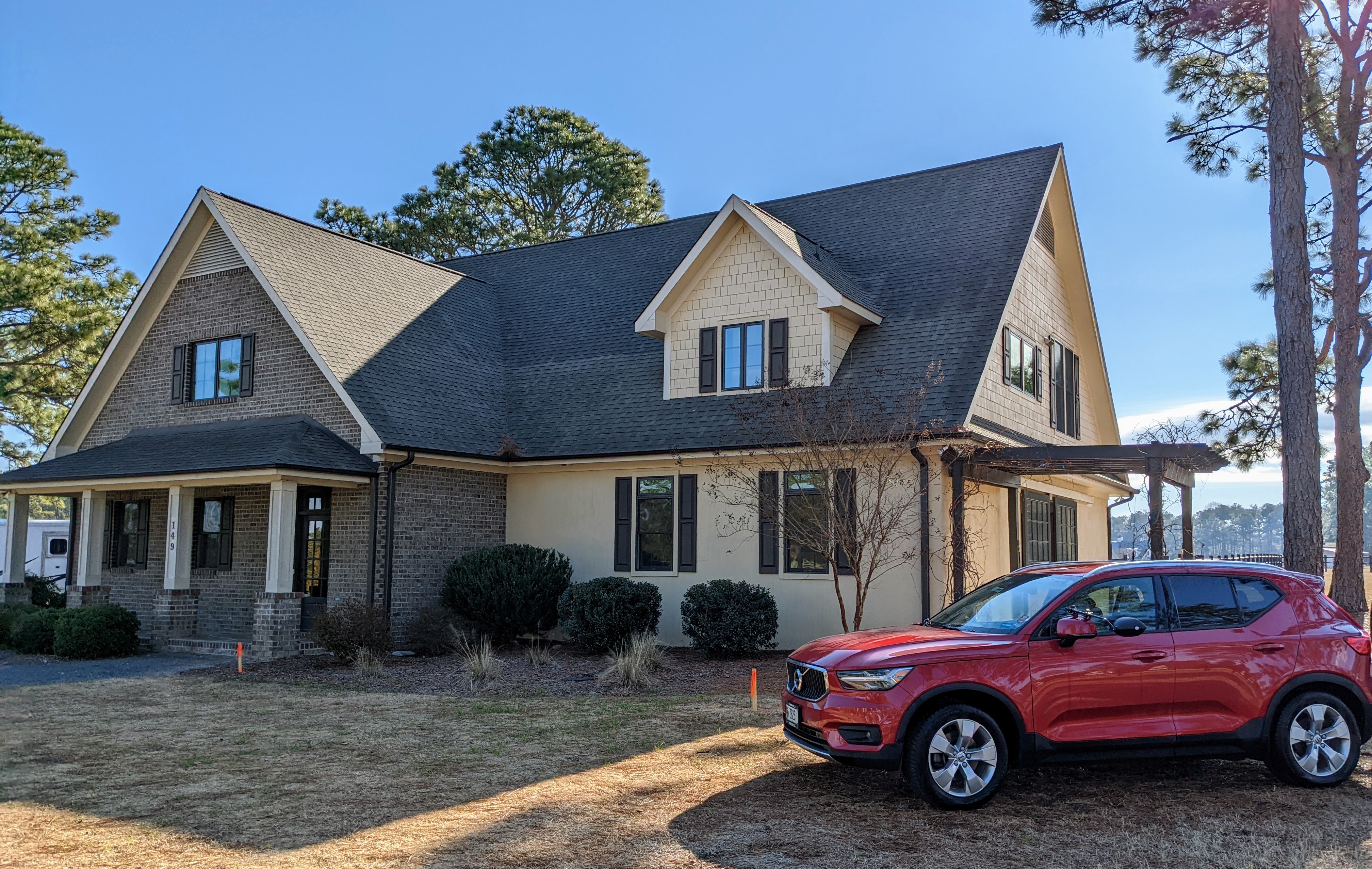 Unfortunately we missed Bob, my next door neighbor growing up and roommate at Dartmouth. He is still working, so he spends weekdays at their home near Winston-Salem. After breakfast, laundry and rinsing the road salt off the car and camper, we headed to our first campground of the trip, Huntington Beach State Park in Murrells Inlet, South Carolina.
Statistics
Anne, the keeper of the logbook, tells me that we've driven 1203 miles with the camper since we left home. Day-by-day, we've gone:
| Day | Miles |
| --- | --- |
| Sunday | 443 |
| Monday | 312 |
| Tuesday | 297 |
| Wednesday | 151 |
Since the numbers have declined each day of the trip, I'm beginning to wonder if we'll ever reach Florida.
South Carolina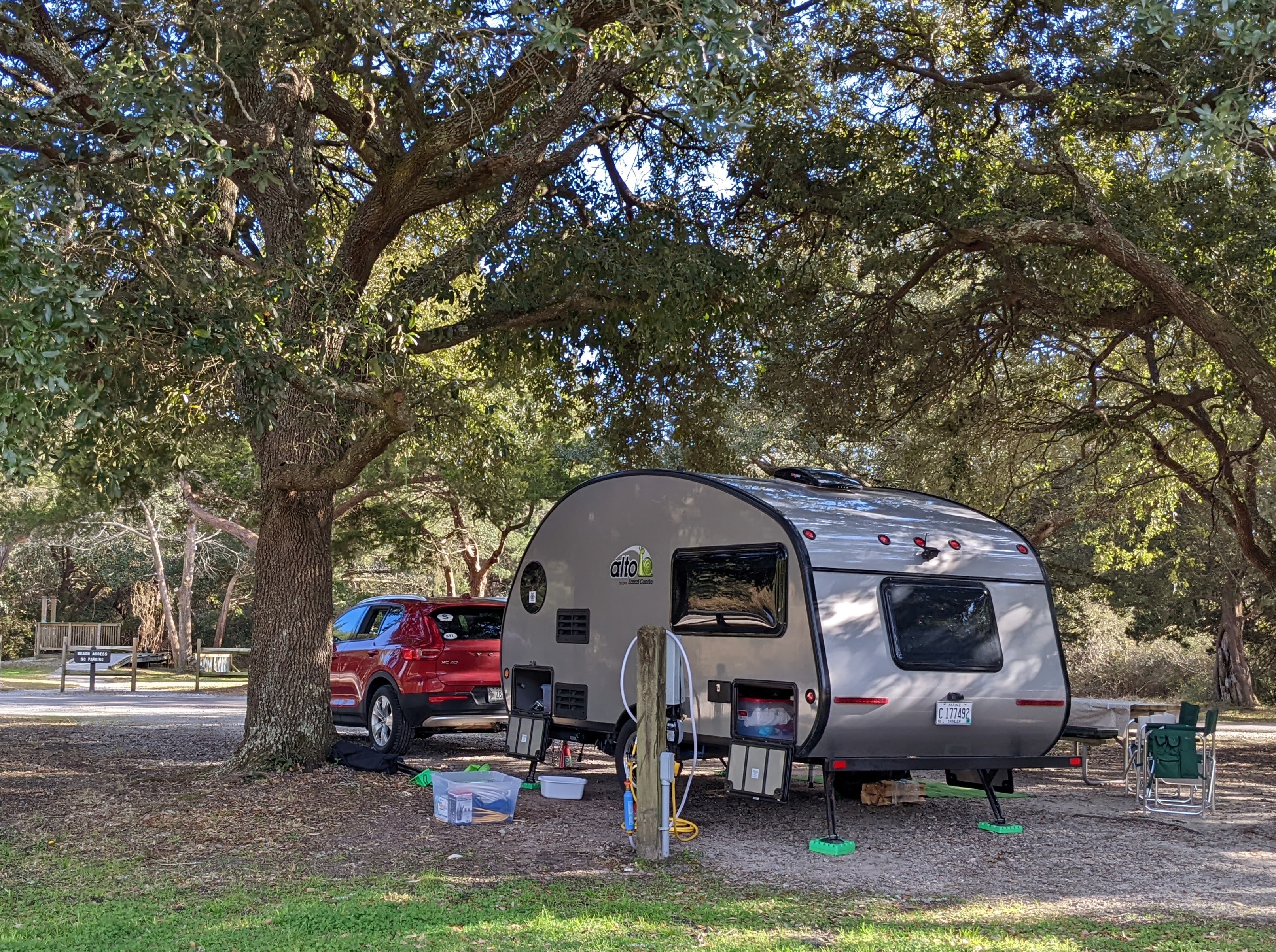 We checked in mid-afternoon and settled into site 8. It's pretty level and easy to back into. I wanted to arrive with plenty of daylight in order to de-winterize2 the camper. Our site is near the path to the beach, which is maybe 100 yards away–close enough to hear the surf. Wednesday night was the full moon, so we walked down to see it over the ocean to the east.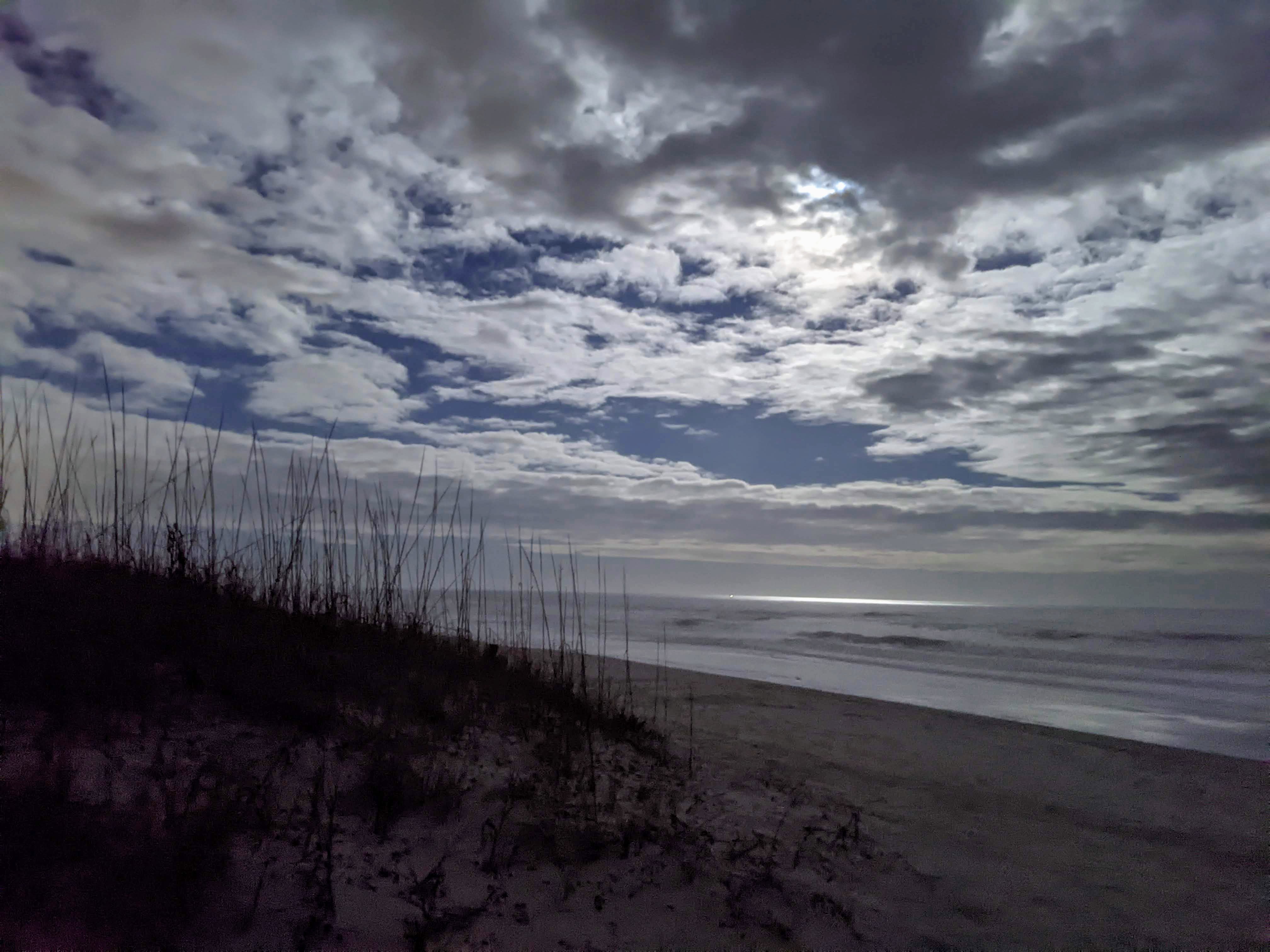 Charleston
Thursday we were off to Charleston, about 90 minutes away. We got a later start than we'd hoped, but arrived in time to grab lunch at Poogan's Smokehouse before our walking tour. The tour was a good way to see a little bit of the city, but we would have like to have spent more time. (See 90 minutes away and late start above.) We grabbed a quick beer at The Griffon before hitting the road back.
Charleston Photos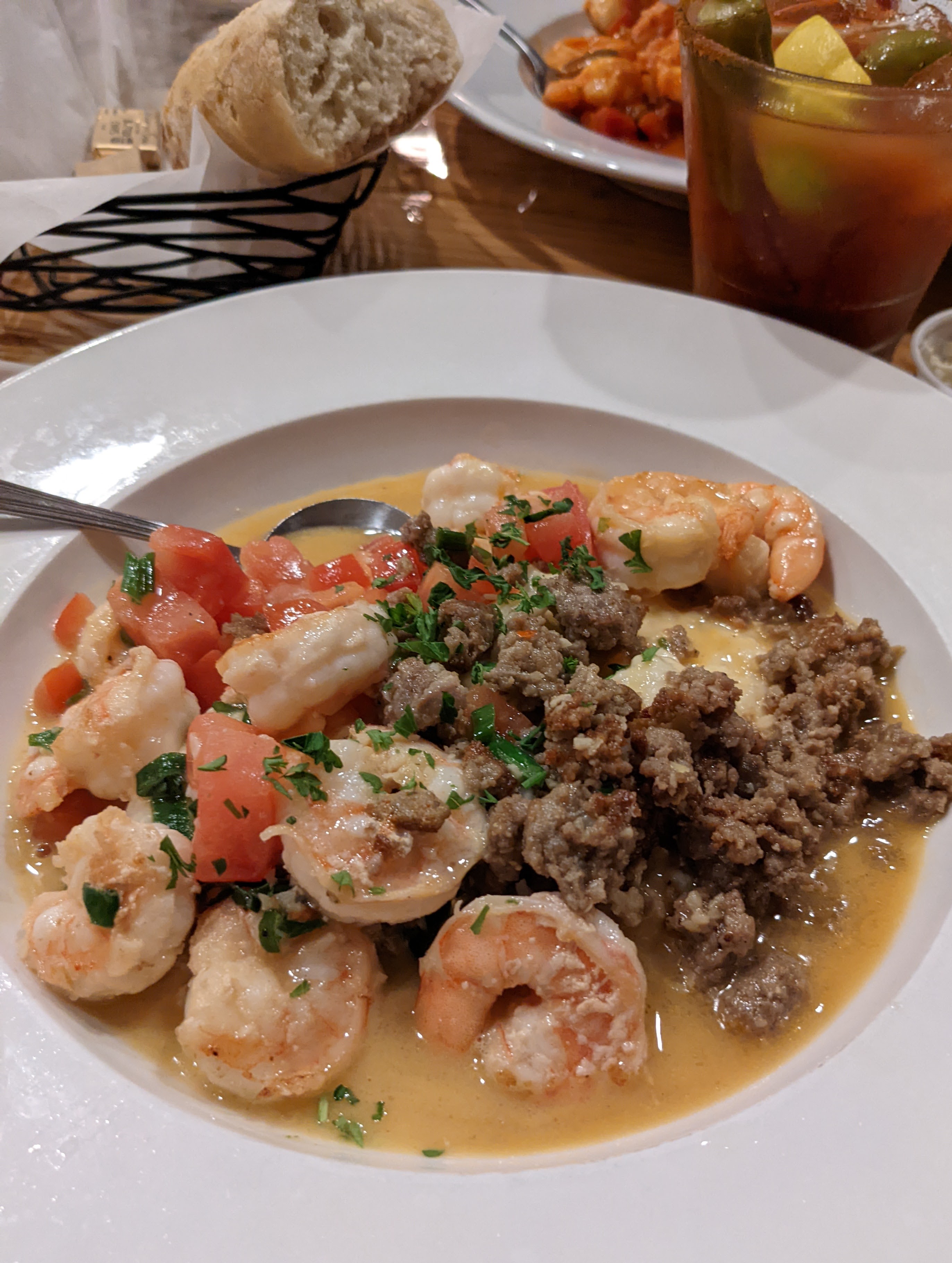 On the way back, we stopped for dinner in Pawleys Island at Rustic Table. Anne had a great Shrimp and Grits and my Creole Shrimp was good too.
Friday
Friday started with some showers. We had hoped to do something with geocaching friends Melanie and Mike, but with the iffy weather we decided to stay here. Anne went off to do a geo-trail just outside the park and I stayed at the camper to finish this blog post. (I'm a slow writer.) While I was here fellow Altoistes Russell and Anita stopped by. They're here from North Carolina in their F2114.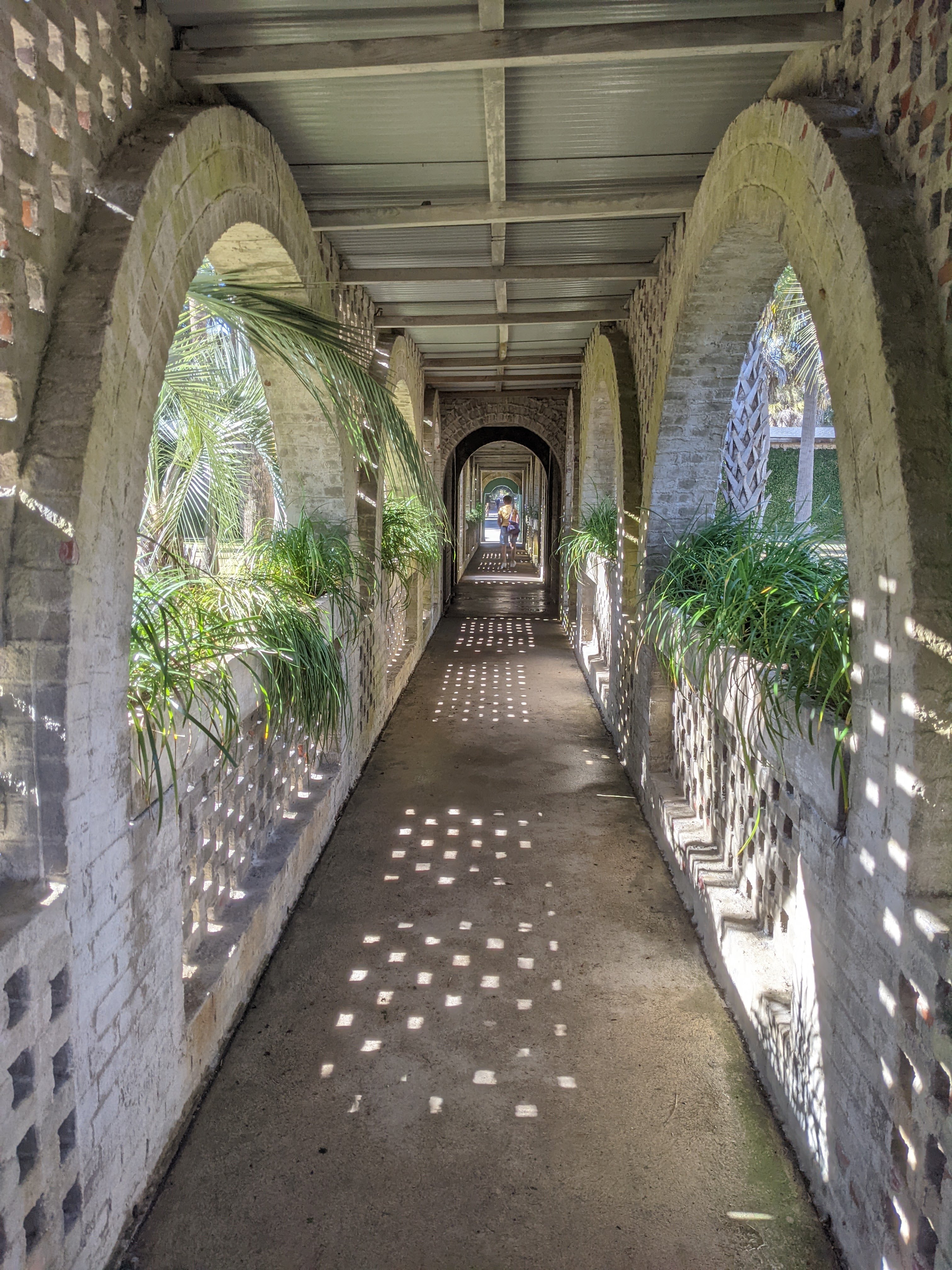 In the afternoon we toured Atalaya, which was the winter home of industrialist and philanthropist Archer M. Huntington and his wife, the sculptor Anna Hyatt Huntington and is located in the park where we're camping. The building is in poor repair and the tour guide wasn't great, but it was interesting nonetheless. After that we headed a few miles south to Pawleys Island to walk the beach with Anne's geocaching acquaintances Melanie and Mike Redden. They used to live near us in Massachusetts, but now are in North Myrtle Beach.
We leave tomorrow, spend a night at a Harvest Host near Savannah, then on to Florida!
---
A huntbox is a building with a stable on the first floor and an apartment above. ↩︎

De-winterizing involves draining antifreeze from the plumbing, filling and flushing everything with a mild bleach solution to sanitize, then draining that and refilling with fresh water. ↩︎